Adventure calls on the rivers with hiking, biking, kayaking, and whitewater rafting. Local tribal members and natural history guides offer unique perspectives in this recreation mecca.
INCLUDED HIGHLIGHTS:
Deschutes River rafting trip
Hike, kayak, swim, and skiff at: Palouse Falls State Park, Columbia Hills State Park, and Ft. Clatsop, a Lewis and Clark National Historical Park
Multnomah Falls walk and visit
Jet boat ride into Hells Canyon National Recreation Area
Pedal or stroll the heart of the famed Columbia Gorge or explore the quaint and happening town of Hood River
Rowena Overlook hikes at Tom McCall Nature Preserve
Transit eight locks and tour the Bonneville Dam Visitor Center
Presentation by a Nez Perce tribal member
Narration by natural and cultural history guides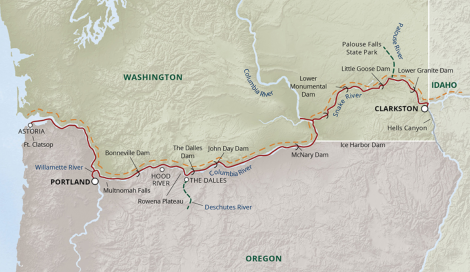 Day 1 – Portland, OR—Embarkation
Arriving in Portland, an UnCruise representative escorts you to our hospitality suite where you can relax or explore the city. Breweries, bookstores, coffee shops, and quirkiness abound, the City of Roses doesn't disappoint with colorful options within walking distance. When it's time to board the SS Legacy, you'll be welcomed with champagne, hors d'oeuvres, and views of the city—a perfect start to your adventure cruise.
Day 2 – Astoria / Ft. Clatsop—Lewis & Clark National Historical Park
Dock in charming, Victorian downtown Astoria, then you're off to Ft. Clatsop, the winter fort of the 1804-1806 Lewis and Clark Expedition. Check out the exhibits and follow trails to the replica fort or take a low- /no-elevation walk from the visitor center to view replica dugout canoes. For a longer but easy hike, a one-mile trail along the Lewis and Clark River leads to an outdoor viewing area highlighting the landscape and stories described in the journals of Lewis & Clark. Hard chargers can take a 7-mile, one-way hike on the Fort to Sea Trail through forest, fields, and dunes. Whichever you opt for, everyone experiences Ft. Clatsop and beach walks. Back downtown, explore on your own, walk the waterfront trail, and/or visit the Astoria Column. Afterwards, set sail up river and see what delectable treats your chef and crew have in store for the evening—a nibble from a local harvest, a special pairing perhaps?
Day 3 – Columbia River Gorge National Scenic Area / Hood River Valley
Gateway to the gorge. Slip through the Bonneville Dam locks, then head behind the scenes at the visitor center. You're in luck with a private tour of its massive turbines and fish ladders. Take a walk on the wild side at Multnomah Falls—the tallest in the state. Snap a few photos before your next big adventure: a guided hike in the heart of the Columbia Gorge. Set out for a trek that gets your legs going while you soak in the lush fern-filled forest—Northwest adventure at its best. Choose the low elevation option, or trek upward to a waterfall amidst towering trees. Back on board, your crew has a "Best of Hood River Valley" wine tasting dialed in. All you have to do is take a seat in the lounge—you're in good hands.
Day 4 – Rowena Plateau / Columbia River Gorge
Lava flows, floods, and volcanic ash deposits shaped the Rowena—sheer cliffs, basalt landforms, wide-stretching plateaus. At Rowena Overlook, it's boots-on-the-ground exploration. Opt for a 2-mile round trip hike to the crest of Tom McCall Nature Preserve. Your reward: expansive views in every direction—including the river far below. Or, choose the steeper, 3.6-mile round trip Tom McCall Point trail. On a cloudless day, your effort gaining 1,000 feet of elevation pays off with views of Mt. Adams, Mt. Hood, and the Columbia River GorgeOUS! Post-hike, fuel up. There's time to cycle or stroll along a pedestrian-only section of the historic Columbia River Highway, or explore downtown Hood River on your own. Art galleries, boutique shops, and wine tasting are all options.
Day 5 – Deschutes River
River play is on the agenda today—whichever option you pick, start with a shallow wet landing on beach. Choose whitewater with a Deschutes rafting adventure. Class II and III+ rapids come with names like Elevator and Surf City. Rafting guides provide the gear (including optional wetsuits) and expertise; your ship's chef provides the picnic lunch. Stick to dry land and visit Columbia Hills State Park on foot or, if weather permits, by skiff. Take a dip in a lazy section of the river, and let the sunshine dry you off after a swim. Along the river's edge, listen to the rustle of cottonwoods. Swap stories with your shipmates over sunset cocktails and appetizers.
Day 6 – Palouse Falls State Park / Snake River
The essentials of the day: kayaks, paddle boards, swimsuits, and hiking shoes. Bring your binocs, too; there's great birding and views. At the only remaining waterfall formed by the ice age-era Missoula Floods, hike above the canyon to view the falls—which, according to tribal legend, were born after a gallant fight with a mythic creature. Afterwards, skiff out to the kayaks and grab a paddle or go for a swim in the Palouse River. Wind up the afternoon cruising one of the most scenic stretches of the Snake River. After your final upriver locking at Lower Granite Dam, dock in Clarkston, Washington.
Day 7 – Hells Canyon
The history of this area is as rich as the canyon walls are dense. Delve into it! After breakfast, it's a treat when a Nez Perce tribal member comes aboard for a special story, song, and music presentation. Lewis & Clark, Nez Perce, early pioneers—signs of the past tell tales on your jet boat ride into the canyon. Keep your eyes peeled for sure-footed bighorn sheep, golden eagles, and 7,000-year-old petroglyphs. Hemmed in by vertical cliffs, this free-flowing stretch of the Snake cuts its way through North America's deepest river gorge. Celebrate the week tonight with a Farewell Dinner and slide show recap presented by your expedition team.
Day 8 – Clarkston / Spokane, WA – Disembark
One last fresh scone or omelet. After breakfast, disembark in Clarkston and transfer to the Spokane, Washington airport to catch your flight home.
Passport required (non USA citizens). Itineraries are guidelines; variations in itinerary and the order of days may occur to maximize your experience.
On board S.S Legacy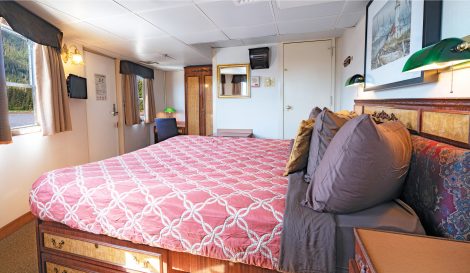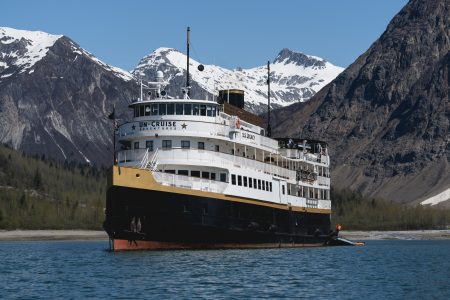 The one-of-a-kind Legacy—or "whale whisperer" as many will tell you—is the fastest in the fleet. Capable of 15 knots, she sails to the farthest reaches spinning yarns of adventure along the way. Like the crew and guests having the time of their lives, she hums with each new opportunity. It's no wonder that for many of the crew (and office folk), she's a first love that never fades. And, a welcoming hub for souls looking for adventure.
Onboard Features: Sea Dragon (the launch pad for adventure); kayaks, paddle boards, inflatable skiffs, hiking poles; two on-deck hot tubs; fitness equipment and yoga mats; piano; DVD and book library; wine bar; and elevator (with access to three of the four public decks).
Cabin Features: TV/DVD player; hair dryer, bathrobes, conditioning shampoo, body wash; binoculars; reusable water bottles; in-room safe deposit box
Book this cruise by calling our travel architects at 514-939-9999.