30-08-2019
The Ritz-Carlton hotel in Istanbul
Charles Richer
Renowned for its magnificent view overlooking the Bosporus, The Ritz-Carlton Istanbul is a perfect blend of European style and Turkish tradition. The hotel, which has been offering gests incredible luxury since opening in 2001, has now raised the bar even further with the completion of a comprehensive renovation program.
Located in an upscale neighbourhood of the city, this five-star member of the prominent Ritz-Carlton hotel chain is surrounded by shops, restaurants, skyscrapers and palaces. This eclecticism is much appreciated by its guests, who choose this luxury hotel for its extraordinary hospitality.
STUNNING UPGRADE
The Ritz-Carlton Istanbul recently marked the completion of a two-year renovation project with the unveiling of its superbly upgraded Ritz- Carlton Suite. Located on the 14th floor, this 2,584 square foot suite offers an impressive panoramic view of the Bosporus through its incredible floor-to-ceiling windows. While respecting the traditional aesthetics that characterize this five-star hotel, Turkish architect Hakan Yürüoglu and Portuguese designer Patricia Pina did not hesitate to add a contemporary touch to the suite. Guests can now enjoy a decor inspired by the Ottoman Empire featuring gold, copper and deep blue accents. Relaxation just comes naturally, thanks to the king-size bed, two marble bathrooms and soaking tub overlooking the magnificent Bosporus below. There is even a living room, office and kitchenette!
In addition to this luxurious suite, every space in the Ritz-Carlton Istanbul has been updated. The 243 rooms, including 23 spacious suites that also offer beautiful views of the city and the sea, were completely renovated to provide the greatest comfort possible. In addition, guests staying in the suites enjoy complimentary access to the exclusive, wellappointed Club Lounge on the 12th floor, a veritable "hotel within a hotel." The various event spaces, designed for both celebrations and professional meetings and conferences, have been totally revamped to make them as user-friendly as possible.
AN UNFORGETTABLE EXPERIENCE
From its warm welcome to its impeccable service, the Ritz-Carlton offers its guests numerous luxuries: the only outdoor full-treatment spa with water views, 24-hour gym access, custom pillows, adjoining rooms (as needed), an indoor and outdoor pool, 24-hour room service with an à la carte menu, and many more! Very security conscious, the hotel closely monitors all comings and goings, even cars.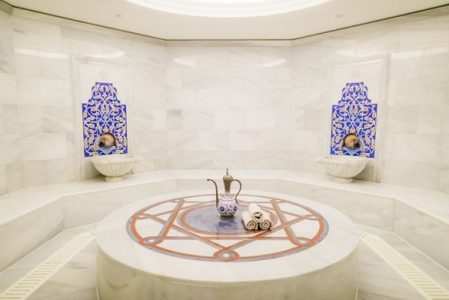 Guests of the Ritz-Carlton Istanbul can also enjoy the renowned Atelier Real Food restaurant, which offers delicious international cuisine along with the finest Turkish classics, a private chef's table, and a cellar featuring 150 delicious wines. If you just want a drink or some light fare, try one of the hotel's two bars, the cozy Atelier Lounge and the festive Bleu Lounge. In addition, the restaurant and bars all offer incredible panoramas, making the guest experience even more unforgettable!
By Mélissa Pelletier for Mixed Magazines Interested in staying at the Ritz-Carlton Istanbul?
Contact our travel architects at 514-939-9999 or fill out our online form.