Imagine yourself in the heart of an old plantation converted in a hotel where charm, voluptuousness and luxury marry perfectly. Dorado Beach is recognized as one of the most luxurious resorts in Puerto Rico. With its private residences, discreet personalized service, deep respect for the environment and its ideal seaside location, this beautiful Ritz Carlton Reserve hotel is an invitation to an extraordinary and unique stay in this beautiful destination, Puerto Rico.
The hotel nestled between a beautiful rainforest and the Atlantic Ocean is 40 km from the airport, a perfect location to feel close to nature and still close enough to the city. You will enjoy the unique Ritz Carlton experience during all stages of your stay and you will leave Dorado Beach with the feeling of having added a new story page to your extraordinary travel book.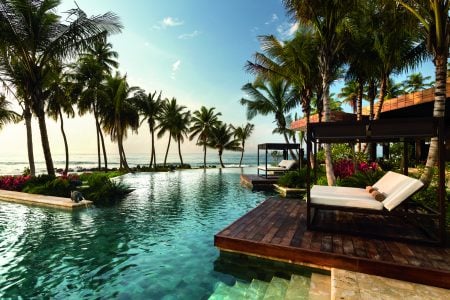 Some features of the rooms:
Floor-to-ceiling sliding glass doors with ocean views
Oversized deck with ocean views
Private pools or rooftop terraces available in some rooms
Flat screen TVs in all King, Queen and Suite rooms, in addition to all living rooms and bathrooms
Enhanced Broadband Internet Access
Indoor and outdoor rainforest showers with deep inner tub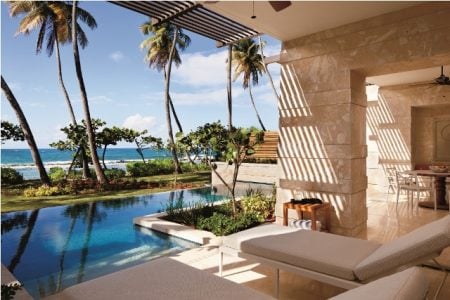 Some features and services of the complex:Three spectacular 18-hole golf courses
The Beach Club with pools for adults and families
The Rockefeller Nature Trail – an open-air sanctuary from the land to the sea
Botánico Spa – A natural haven designed to inspire well-being and provide pure relaxation State-of-the-art fitness and wellness center
5 restaurants offering great cuisine with Spanish, Caribbean and American influences
Center Ambassadors of the Environment by Jean-Michel Cousteau
What  VP Travel likes about this hotel.
Its Botanico spa, located in a fragrant pineapple garden and surrounded by lush nature. You'll love lime and lemongrass peeling to restore and calm the body
This luxury oasis was founded on the footprint of the 1950s Laurance Rockefeller businessman, allowing each room and restaurant to be directly on the beach, just steps from the sea
With acclaimed chef José Andrés leading his first Caribbean restaurant, Mi Casa, guests can enjoy an epicurean adventure that reflects the heritage of Puerto Rico
With stunning views and towering palm trees, every traveler is invited to immerse themselves in the unique experiences offered
Involvement in the respect of the environment, thanks to the Center of Environmental Ambassadors Jean-Michel Cousteau who introduces visitors to the natural wonders of Puerto Rico on land and sea, including coral reefs, diversity of birds, wetlands and the sea. traditional taïno culture
Partly hit by recent hurricanes, the hotel is currently closed for renovation mainly gardens. Reopening scheduled October 1, 2018, but you can now book your stay.
Would you like us to plan your next vacation at Dorado Beach Hotel? Contact our travel architects at 514 939-9999 or via our form, they will be happy to assist you. 
Ritz Carlton Reserve hotels are typically nestled in an untouched corner of paradise and invite guests to experience a unique and meaningful experience in the most remote and beautiful places in the world.
Find other Ritz Carlton Reserve Hotels worldwide:
Krabi, Thailand

Mandapa,

Ubud

Los Cabos, Mexico

Tamuda Bay, Morocco

Pearl Island, Panama