Cruise away from the cold aboard the Riviera from Miami
Far from the cold, the snow, the big coats, the scarves, and the shorter days, take advantage of the sun which, in certain parts of the world, always shines.
Cruises were always fashionable, but they lost popularity when winter came. However, in recent years, we are seeing a real reversal of trends. People who enjoy cruise are increasingly deserting their usual place of residence during the winter for the comfort of private rooms or suites on cruises.
The Oceania Cruises Riviera offers a 74-day cruise on the Caribbean Sea, sailing from port to port, from sun to sun. In addition to the climate and atmosphere, cruise passengers will have services that they may not have at home: meals conceived by prestigious chefs, cleaning done every day in the room or suite and especially a secure feeling.
From Miami, the cruise stops include the Bahamas, St. Bart's, Martinique and Mexico among many others.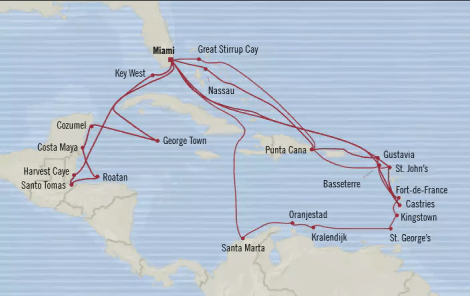 Jan 13 Sat: Miami, Florida, United States (Embark)
Jan 14 Sun: Cruising the Straits of Florida
Jan 15 Mon: George Town, Cayman Islands
Jan 16 Tue: Cozumel, Mexico
Jan 17 Wed: Costa Maya, Mexico
Jan 18 Thu: Roatan, Honduras
Jan 19 Fri: Santo Tomas, Guatemala
Jan 20 Sat: Harvest Caye, Belize
Jan 21 Sun: Cruising the Straits of Florida
Jan 22 Mon: Key West, Florida, United States
Jan 23 Tue: Miami, Florida, United States
Jan 24 Wed: Cruising the Old Bahama Channel
Jan 25 Thu: Cruising the Caribbean Sea
Jan 26 Fri: Santa Marta, Colombia
Jan 27 Sat: Oranjestad, Aruba
Jan 28 Sun: Kralendijk, Bonaire
Jan 29 Mon: Cruising the Caribbean Sea
Jan 30 Tue: St. George's, Grenada
Jan 31 Wed: Kingstown, St. Vincent
Feb 1 Thu: Fort-de-France, Martinique
Feb 2 Fri: Basseterre, St. Kitts
Feb 3 Sat: Gustavia, St. Barts
Feb 4 Sun: Cruising the Atlantic Ocean
Feb 5 Mon: Cruising the Atlantic Ocean
Feb 6 Tue: Miami, Florida, United States
Feb 7 Wed: Nassau, Bahamas
Feb 8 Thu: Cruising the Atlantic Ocean
Feb 9 Fri: Punta Cana, Dominican Republic
Feb 10 Sat: Gustavia, St. Barts
Feb 11 Sun: St. John's, Antigua
Feb 12 Mon: Castries, St. Lucia
Feb 13 Tue: Basseterre, St. Kitts
Feb 14 Wed: Cruising the Atlantic Ocean
Feb 15 Thu: Cruising the Atlantic Ocean
Feb 16 Fri: Miami, Florida, United States
Feb 17 Sat: Cruising the Straits of Florida
Feb 18 Sun: George Town, Cayman Islands
Feb 19 Mon: Cozumel, Mexico
Feb 20 Tue: Costa Maya, Mexico
Feb 21 Wed: Roatan, Honduras
Feb 22 Thu: Santo Tomas, Guatemala
Feb 23 Fri: Harvest Caye, Belize
Feb 24 Sat: Cruising the Straits of Florida
Feb 25 Sun: Key West, Florida, United States
Feb 26 Mon: Miami, Florida, United States
Feb 27 Tue: Great Stirrup Cay, Bahamas
Feb 28 Wed: Cruising the Atlantic Ocean
Mar 1 Thu: Punta Cana, Dominican Republic
Mar 2 Fri: Basseterre, St. Kitts
Mar 3 Sat: St. John's, Antigua
Mar 4 Sun: Castries, St. Lucia
Mar 5 Mon: Gustavia, St. Barts
Mar 6 Tue: Cruising the Atlantic Ocean
Mar 7 Wed: Cruising the Atlantic Ocean
Mar 8 Thu: Miami, Florida, United States
Mar 9 Fri: Cruising the Atlantic Ocean
Mar 10 Sat: George Town, Cayman Islands
Mar 11 Sun: Cozumel, Mexico
Mar 12 Mon: Costa Maya, Mexico
Mar 13 Tue: Roatan, Honduras
Mar 14 Wed: Santo Tomas, Guatemala
Mar 15 Thu: Harvest Caye, Belize
Mar 16 Fri: Cruising the Atlantic Ocean
Mar 17 Sat: Key West, Florida, United States
Mar 18 Sun: Miami, Florida, United States
Mar 19 Mon: Nassau, Bahamas
Mar 20 Tue: Cruising the Atlantic Ocean
Mar 21 Wed: Punta Cana, Dominican Republic
Mar 22 Thu: Gustavia, St. Barts
Mar 23 Fri: St. John's, Antigua
Mar 24 Sat: Castries, St. Lucia
Mar 25 Sun: Basseterre, St. Kitts
Mar 26 Mon: Cruising the Atlantic Ocean
Mar 27 Tue: Cruising the Atlantic Ocean
Mar 28 Wed: Miami, Florida, United States (Disembark)