10 days cruise from Bridgetown to Bridgetown on the Sirena
SUN, SAND & SERENITY
Indulge in a sun-drenched respite among the Caribbean's most picturesque islands, where forested slopes sprinkled with stately plantations open up to blissful beaches perfect for aquatic adventures or ultimate relaxation.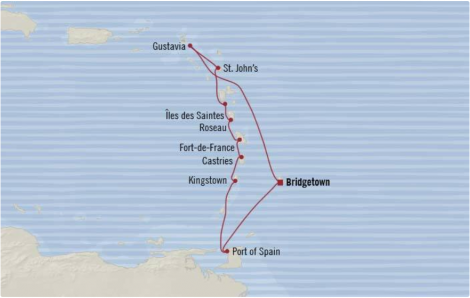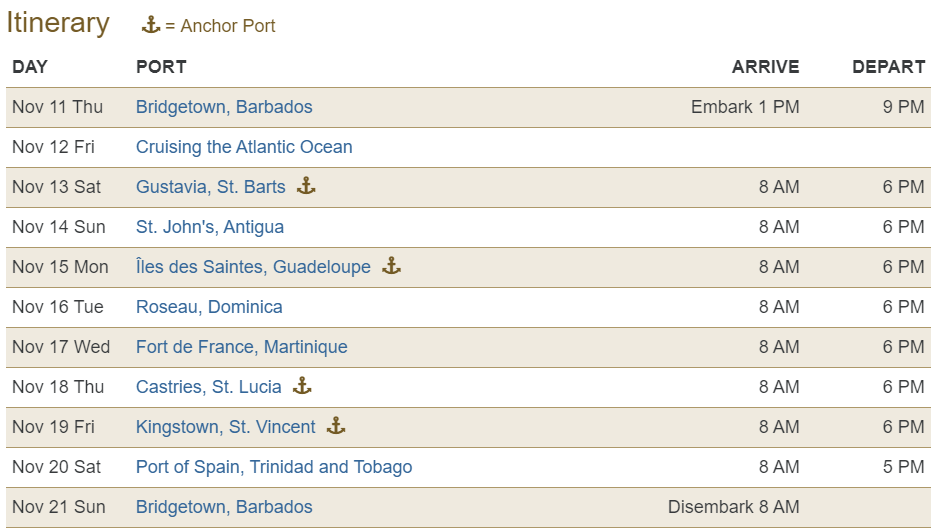 Bridgetown, Barbados
Discover the many beautiful aspects of this island, from its rugged Atlantic coastline to its beautiful Great Houses, cane fields, exquisite gardens and glorious beaches. See the island's spectacular underwater treasures on your own snorkeling expedition.
Shore excursions on the first and last day of a cruise are only available for guests who are combining back-to-back voyages to create a longer cruise. Those guests may organize custom tours through the Destination Services Desk on board.
Gustavia, St. Barts
Tour this beautiful island and marvel at the rugged coastline and its unspoiled, upscale atmosphere, unique in the Caribbean for its Swedish and French heritage. Enjoy the spectacular beaches and resorts, snorkel or dive in the crystalline waters, or see underwater wonders from a semi-submersible marine vessel.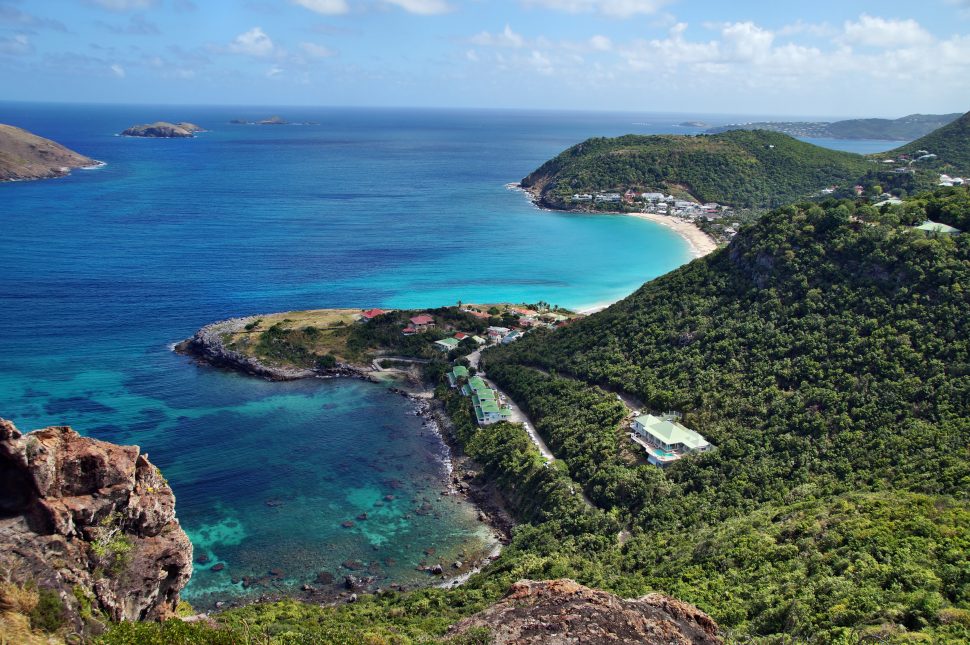 St. John's, Antigua
Take a scenic drive, enjoy panoramic island views and visit famed Nelson's Dockyard. Go deep-sea fishing or off road to interesting seaside villages and see the fragile mangrove ecosystem. Play golf, enjoy snorkeling and sea kayaking, or just spend the day relaxing on a fabulous white sand beach.
Îles Des Saintes, Guadeloupe
Comprising eight small islands – two inhabited – Îles des Saintes is a place where you can be happy doing absolutely nothing. You'll be tendered to Terre-de-Haut Island, where the local population numbers less than 2,000. Whether your agenda consists of seeing a specific sight like Fort Napoléon, getting active on a hike, or taking a short stroll to find a café, this laid-back locale has got you covered. Hire a boat to go scuba diving. Shop for handpainted t-shirts or posters with island themes. Or simply plant yourself in the sand and let the balmy breezes of the Caribbean carry you into a reverie.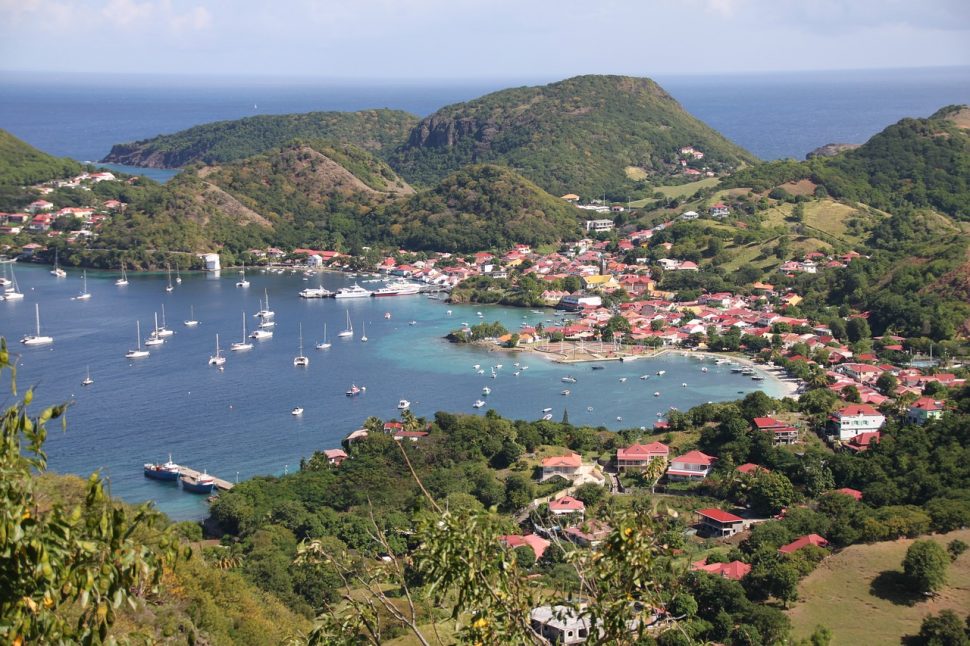 Roseau, Dominica
Experience the natural wonders of this lush, unspoiled island, from the beautiful Emerald Pool and dense rainforest to spectacular vistas and rare plants and birds. Spend some time snorkeling or try ocean kayaking. Take an aerial tram through the tree canopy near Boiling Lake. Or go on a search for whales and dolphins.
Fort de France, Martinique
Tucked along the island's western shore, Fort-de-France is a Francophile's tropical dream city. French architecture such as the Cathédral St-Louis graces the downtown, the beaches exude a joie de vivre, and several French-built forts perch atop the promontories. All roads lead to La Savane, a serene central park overseen by a statue of Empress Josephine.
Castries, St. Lucia 
Explore this lush, beautiful island and its bustling capital. Visit the historic La Toc Battery, see banana plantations, and watch silk screening at Bagshaws. Venture south to Soufriere at the base of the Piton peaks and see the unique gingerbread architecture of the marketplace. Take a bike ride through the rain forest to a lovely waterfall, kayak in the deep blue Caribbean, snorkel or dive to spectacular reefs.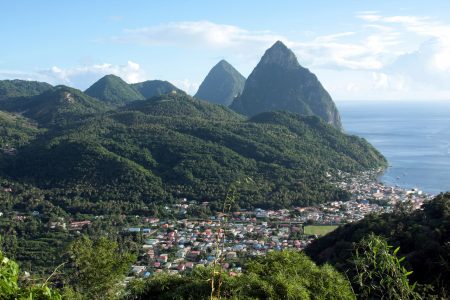 Kingstown, St. Vincent
Known as the "City of Arches," this town is filled with old world charm and accented with rich, rolling green hills. Kingstown's cenotaph is a beautiful monument atop a granite pedestal that honors soldiers who died in the first and second world wars. Built in 1820, St. George's Cathedral houses exquisite galleries, and the city's botanical garden is the oldest in the Western Hemisphere.
Port of Spain, Trinidad and Tobago
Wander through the bustling streets of this cosmopolitan city, enjoy the vibrant ambiance; this is, after all, the birthplace of Calypso. Visit the Royal Botanic Gardens or hike into the rain forest at Maraca Bay for stunning views and waterfalls.
Onboard SIRENA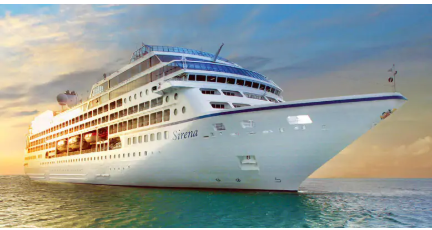 Elegantly Charming
Sleek and elegantly charming, Sirena's decks are resplendent in the finest teak, custom stone and tile work, and her lounges, suites and staterooms boast luxurious, neo-classical furnishings. Sirena offers every luxury you may expect on board one of our stylish ships.
If you are interested by this cruise, please contact our travel architects at 514-939-9999.