13-12-2019
Airports and terminals where you want to be
Charles Richer
Recently, some airports are doing everything they can to make the experience of your passage between their walls more enjoyable. They understood that noisy crowds, lines that drag on everywhere, from the checkpoint to the food counters, not to mention the toilets, are very inconvenient and often discourage travelers from passing through their facilities. The first airport to allow passengers to pass the security without a boarding pass, in 2017, was Pittsburg Airport. By doing so, they allowed passengers to drink, eat and linger in the terminal during their waiting times. In April of the same year, the Tampa airport applied the model, and Seattle and Austin airports are considering similar initiatives. Seattle Airport, on a six-week test, attracted more than 1 000 non-passengers to hang out and shop at the airport. With success, airports around the world are preparing to apply the same model. A good example is Daxing Airport in Beijing, which has recently opened its doors and whose six-armed star structure is an attraction, even for Beijingers! More than a transport hub, this airport is compared to a city. For you, here is a list of airports that have decided, with more elegant designs, prestigious restaurants, breathtaking scenery, abundant light and / or spectacular views, to become destinations in their own.
John F. Kennedy Airport (NY), USA
This airport had the good idea to transform what is known as the "Grand Central of the Jet Age", that is to say the old terminal of the TWA, into a hotel. This is the only hotel at this airport and it cost $249 per night. You will find exhibitions of the museum, you can enjoy a drink in the various cocktail bars to relax, enjoy the dining room to satiate you, use the fitness center for the modest sum of $25 or give yourself a moment of respite on the new terrace of the TWA hotel infinity pool, which sells for $50 on weekends.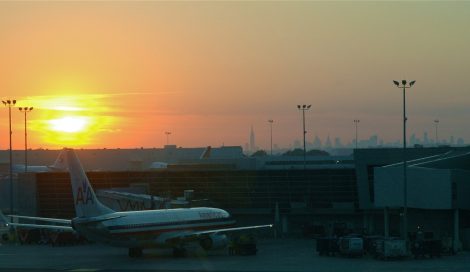 Ilan International Airport and Asaf Ramon, Israel
What sets this airport apart is its white architecture juxtaposed with the surrounding desert landscape. Located in the heart of the seaside region of the Red Sea, close to Eliat, passengers arriving there enjoy a panoramic view because the deposit of luggage and security are installed underground. It is through the building's windows walls that Negev desert and its mountains revealed. The heat of the sun is reflected away from the airport by the white aluminum panels, which assures travelers that they will not be overwhelmed by the heat.
Singapore's Jewel Airport has opted for an oasis-like environment that immerses you in serenity and wonder. Centered under a spectacular spherical glass dome are 12 different attractions. You will be amazed as you stroll through the Shiseido Forest Valley, which is divided into 2 hiking trails dotted with 60,000 shrubs and more than 900 trees and palms. For children and the more adventurous, Canopy Park is not to be missed. You'll find, among other attractions, a petal garden, a topiary walk, a glass floor deck and a giant bouncing net! Other activities include Rain Vortex, Covered Bridge, Sky Nets, Hedge Labyrinth, Misty Bowls, Mirror Maze, Discovery Slide Zone and Changi Experience Studio. Jewel Airport also offers many restaurants, shops and even a hotel.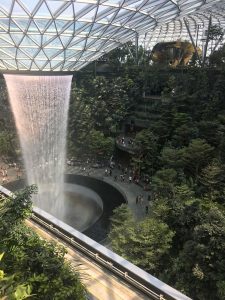 Paine Field Airport (Seattle) USA
This newly built airport is distinguished by its style and atmosphere. Indeed, with approximately 18 daily departures, only 2 passenger doors and 30,000 square feet, it is a small commercial airport. On the other hand, you will find sleek designs accented with rich warm woods. Charming models adorn the terminal and are enhanced by the natural light that enters the enclosure through floor-to-ceiling windows. You'll love registering at the Italian marble countertops, rest yourself in one of the comfortable seats that line the waiting room, and listening to the announcements that are broadcast from a Bose sound system, making them softer in the ears of the audience.
San Francisco International Airport (California) USA
Harvey Milk Terminal 1
Harvey Milk was the first openly gay man elected to the California government. The city of San Francisco has decided to honor it by naming Terminal 1 on its behalf. Here you will find an exhibition of Harvey Milk's life, you can sip in different restaurants offering varied menus such as Southern cuisine, tacos, Vietnamese sandwiches, organic and vegan dishes or just sit on the long leather chairs lining the windows overlooking the tracks and composed of electronically tinted glass, which has the effect of eliminating the glare of the sun. Some restaurants offer beer and wine. At this terminal, the bathrooms are gender neutral and this option is also suitable for non-binary travelers. This terminal only serves domestic flights for Southwest and JetBlue. A Grand Hyatt hotel has recently opened.
With a construction cost of $12 billion, this airport is certainly one of the most luxurious and impressive on our list. Operating its first flights in October 2018, all the companies are now installed there since last April. Its elegant design reveals high vaulted ceilings, window walls and huge open spaces covering over 18,000 acres. Much remains to be done and when the four phases of construction will be completed, in a decade, it will accommodate 200 million passengers per year and will become the busiest airport in the world. To date, only the first phase is complete and it has a huge franchise area that includes more than 1 000 international luxury brands such as Ferragamo, Prada, Hermes, Gucci, Celine, Louis Vuitton and Bulgari to name just a few.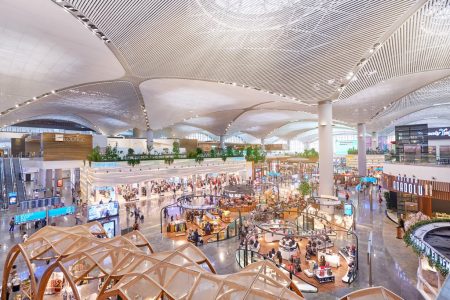 Terminal B
Many hate La Guardia airport, but pay attention to the new Terminal B promises to change things. Rated at $1 billion, it offers window walls, high ceilings reflecting a clear and airy atmosphere and 3 levels. A food court offers 5 restaurants, shops and a bookstore. Next year, at Terminal B, 2 additional doors will be added to the 16 already open. You will also notice that throughout the airport there are more points of sale for loading devices, fountains to fill re-usable bottles of filtered water, larger and cleaner toilets, more comfortable seats and more wide  aisles.